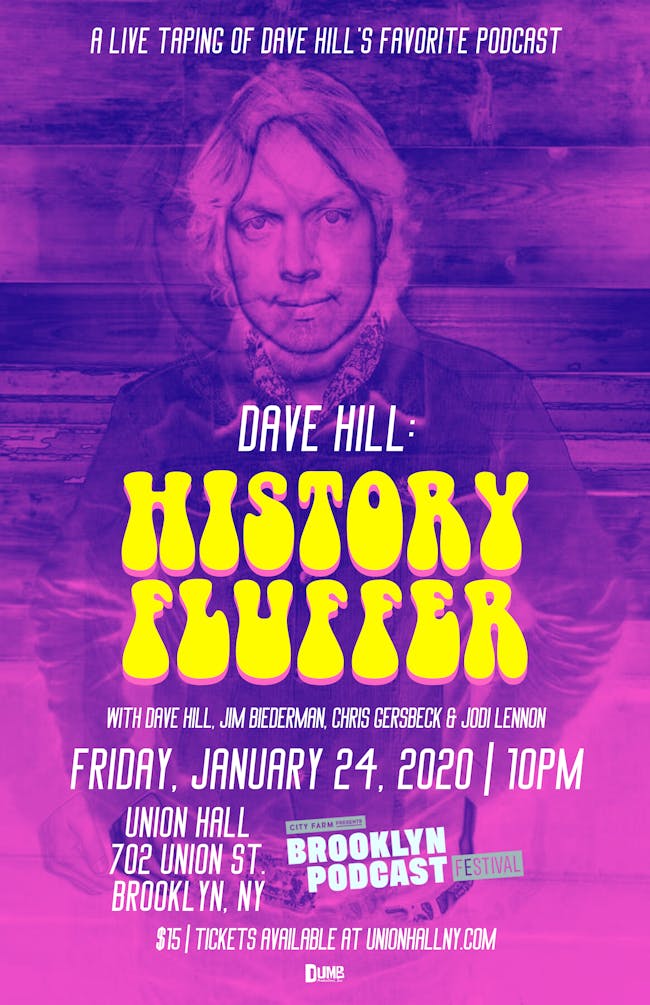 Dave Hill, Jim Biederman, Chris Gersbeck and Jodi Lennon
Dave Hill
Dave Hill: History Fluffer - Live Podcast Taping
Comedian Dave Hill gives his first-person account of different periods throughout history while Jim Biederman, Chris Gersbeck and Jodi Lennon call bullsh*t on most of what he's saying. This is a special live taping of the weekly podcast.
—
Dave Hill is a comedian, writer, and musician originally from Cleveland but now living in New York City. He has appeared on Unbreakable Kimmy Schmidt, Inside Amy Schumer, @midnight, Full Frontal with Samantha Bee, and The Jim Gaffigan Show among other programs, and stars in the upcoming film Boy Band. Dave has starred in his own TV series, The King of Miami, on the MOJO Network, which was cancelled even though Dave really liked it. He is a regular contributor to public radio's This American Life and hosts his own radio show, The Goddamn Dave Hill Show, on WFMU in Jersey City, New Jersey. Dave performs live comedy in theaters, prisons, and basements all over the world and even opened for Snoop Dogg once, which was awesome. He also plays guitar and sings in his own rock band, Valley Lodge, whose song "Go" is the theme song for HBO's Last Week Tonight with John Oliver. Dave has written for The New York Times, The Paris Review, Salon, GQ, McSweeney's, The New York Observer, The Cleveland Plain Dealer, and Guitar World, among other publications, and is author of two books, Dave Hill Doesn't Live Here Anymore (2016 Blue Rider Press and Tasteful Nudes:…and Other Misguided Attempts at Personal Growth and Validation (2012 St. Martin's Press). He also smells really great and has made out with a lot of chicks and you can ask anyone.
—
Jim Biederman is a leading Executive Producer/Showrunner of alternative scripted and unscripted alternative comedy. He has Executive Produced shows for a diverse group of networks;, including NBC, FOX, CBS, TBS, USA, IFC, CBC, MTV, Comedy Central, Bravo, VH1, Nat Geo, BBC America, GSN, CMT, Fuse, Logo.His Executive Producer credits include: The Kids In The Hall, The Howard Stern Radio Show, The Tom Green Show, I'm With Busey, Daisy Does America, The Jamie Kennedy Experiment, The Whitest Kids U Know, Michael & Michael Have Issues, Would You Rather…With Graham Norton, The Onion News Hour, What We Wasted Our Year On, among others. In addition, Jim runs JimCo, a full service production company based in New York.Before founding Jimco, Jim was VP, Television Development/Production for Lorne Michaels' Broadway Video. He worked at Broadway Video for 9 years.
—
Jodi Lennon is a writer/director/producer. Jodi is an alumna of Chicago's Second City, a member of The Annoyance Theatre, and a performer at IO. Jodi studied improvisation with Del Close, Mick Napier, Martin deMaat, David Pasquesi and others. As a member of The Annoyance Theatre, Lennon was a collaborator and performer in numerous plays and musicals including, Manson: The Musical, Co-ed Prison Sluts and Tippi. She then moved to New York City as a writer/performer on the Comedy Central sketch show Exit 57. Lennon went on to create/write/producer her own sketch/talk show, Tame Show for The Burly Bear Network. Lennon originated roles in the Obie award-winning and Aspen Comedy Festival One Woman Shoe and the Lincoln Center Festival's Incident at Cobbler's Knob, both written by Amy and David Sedaris. She also played iconic characters in many Tweed Productions, fractured classic series, including Imitation of Life, Interiors, Night Mother,to name a few. Lennon has performed at the UCB Theater in such shows as Asssscat, Let's Have A Ball, Lennon & McCartney Live, and The Goof Around Gang. She continues to improvise weekly in shows at The Annoyance NYC, The PIT and UCBNY. She also teaches character workshops at UCB and The Annoyance Theatre. Jodi writes and directs, Fooling Around with Casey Jost which is currently running in NYC. Other recent one-person shows Jodi has directed include; Julie Klausner's Too Gay for Brooklyn and The Cabaret Situation both at Joe's Pub, Chris Roberti's Cult of Positivity at The PIT. Recent television Jodi has written for; Hulu's Difficult People Seasons 1,2 and 3, TruTv's Impractical Jokers & Funny or Die's Billy On The Street. Jodi directed the documentary short, Marc Maron: The Voice of Something. Jodi is currently writing and producing on At Home with Amy Sedaris coming soon to truTV. Jodi loves coffee.
—
Chris Gersbeck is a comedian, producer and writer based in Queens, NY. He currently produces and makes regular appearances on comedy podcasts Dave Hill: History Fluffer, Dave Hill's Podcasting Incident, and So… You're Canadian with Dave Hill which is on the Maximum Fun network. Chris also produces numerous live comedy events throughout New York City under the banner of Dumb Productions, Inc. and handles publicity for several popular podcasts including RISK! and Keith and The Girl. Along with comedian Frank Conniff (TV's Frank on Mystery Science Theater 3000), Chris produces Open Riff Night, a show where anyone can riff on clips of awful movies.

About the Brooklyn Podcast Festival

Launched in 2017, the Brooklyn Podcast Festival is a celebration of innovative, engaging, and informative podcasts of all genres, the artists who create them, and the community surrounding them. The Festival gives audiences the opportunity to see their favorite podcasts live and a chance to discover new and up and coming shows.

WNYC Studios and Relix are media partners of the Brooklyn Podcast Festival.

Venue Information:
Union Hall
702 Union St.

Brooklyn, NY, 11215