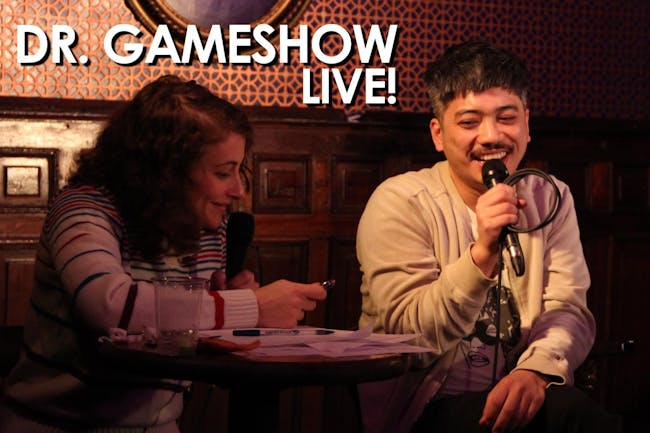 Presented by the Brooklyn Podcast Festival
Dr. Gameshow LIVE!
Dr. Gameshow LIVE!
Jo Firestone and Manolo Moreno bring their cult-favorite Dr. Gameshow podcast (now on Maximum Fun) to Union Hall where audience members will compete playing listener-created games to win a special prize.
Jo Firestone is a Brooklyn-based comedian whose work can be seen on The Tonight Show Starring Jimmy Fallon, Joe Pera Talks With You, The Chris Gethard Show, and heard on MaxFun, Earwolf, and WFMU. Her half hour special aired on Comedy Central in 2016, and her album, "The Hits" is available now on Comedy Central Records. If you like puns, check out her game, Punderdome: A Card Game for Pun Lovers.
Manolo Moreno is a Pennsylvania-born Filipino American comedian/animator/writer who has performed at places like Gotham Comedy Club, Union Hall, Littlefield, Triple Crown, and DaF Festival; and has had work featured in places like Vulture, Abrams, IFC, Comedy Central, New York Television Festival, Red Hot Video Funtime, and Sundance Film Festival; and was written up in Karate Magazine's 2016 "A List Of 5 Comedians I Know Personally."

About the Brooklyn Podcast Festival

Launched in 2017, the Brooklyn Podcast Festival is a celebration of innovative, engaging, and informative podcasts of all genres, the artists who create them, and the community surrounding them. The Festival gives audiences the opportunity to see their favorite podcasts live and a chance to discover new and up and coming shows.

WNYC Studios and Relix are media partners of the Brooklyn Podcast Festival.

Venue Information:
Union Hall
702 Union St.

Brooklyn, NY, 11215