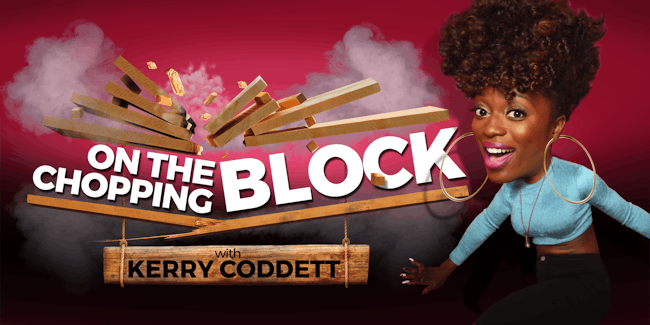 with Kerry Coddett, Matthew Broussard, Jordan Carlos, Marcia Belsky + more!
On The Chopping Block
$12.00 - $15.00
Tickets At The Door
On The Chopping Block with Kerry Coddett
ON THE CHOPPING BLOCK is a podcast hosted by comedian, writer and actor, Kerry Coddett, where she invites her friends---a combo of comics, celebrities, topic experts and everyday people---to talk freely about today's most polarizing socio-cultural, political and pop culture issues.
In a world where people are "canceled", "muted" or "unfriended" because of diverging views, On the Chopping Block will explore both sides of the panelists position and through a series of exercises, seek to uncover if there's at least one commonality that all the guest can agree on.
Featuring:
Matthew Broussard (Conan, The Tonight Show, Comedy Central Half Hour)
Jordan Carlos (Comedy Central's The Colbert Report, The Nightly Show & Broad City)
Marcia Belsky (Misandry with Marcia and Rae Podcast)
E. Tammy Kim (Journalist - NY Times, The New Yorker, Al Jazeera America)
**PLEASE NOTE: This event will be mixed seated/standing. Arrive early for best seat selection.

Venue Information:
*DO NOT USE* Union Hall
702 Union St.
Brooklyn, NY, 11215