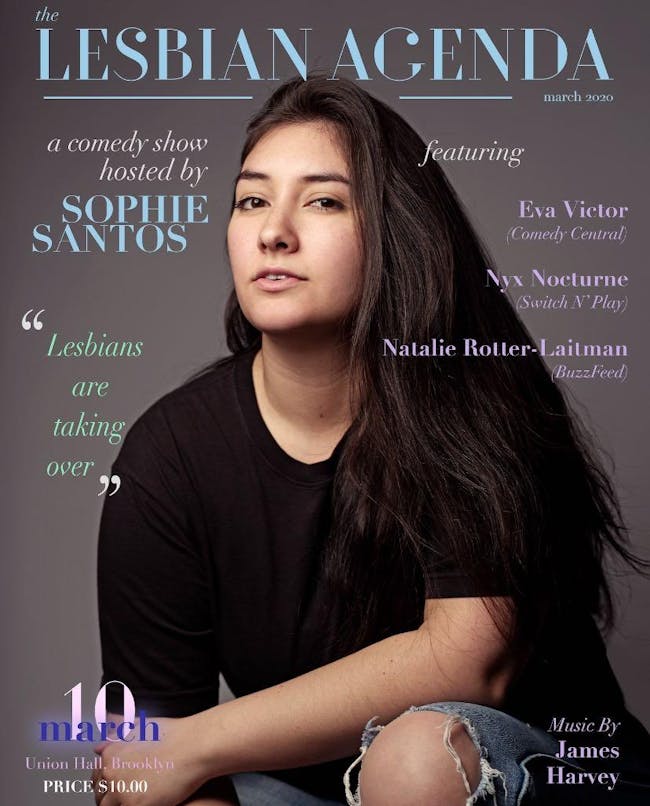 Sophie Santos, Eva Victor, Nyx Nocturne, Natalie Rotter-Laitman
The Lesbian Agenda
Sophie Santos, Eva Victor, Nyx Nocturne, Natalie Rotter-Laitman
$10.00 - $12.00
Sales Ended
The Lesbian Agenda
Did you hear that lesbians are taking over the world? Well, when they're not getting killed off on TV shows or busy playing with their hairless felines!
Sophie Santos brings you her Agenda™ with this banging variety show featuring the best lez, bi and queer comedians* of all time. Buckle up those Birkenstocks ladies... she's got big plans.
*lineup may include straights if they are very, very funny and/or were raised by two moms.
Featuring:
Eva Victor (Comedy Central)
Nyx Nocturne (Switch N Play)
Natalie Rotter-Laitman (Buzzfeed)
Music by James Harvey
Produced by Amy Bianco
**PLEASE NOTE: This event will be mixed seated/standing. Arrive early for best seat selection.

*Individual performer appearances subject to change without notice.

Venue Information:
Union Hall
702 Union St.
Brooklyn, NY, 11215